Commercial Building Exterior Cleaning Fort Myers, Florida
Click on any of the highlighted areas to learn more about our professional-level services and how they can protect and prolong the life of your residential or commercial property or those you manage – and create a healthier living or working environment.
COMMERCIAL BUILDING EXTERIOR CLEANING SERVICES
At Clearly Amazing, we're your trusted single source for all of your commerical exterior cleaning needs.
Commercial Building Exterior Cleaning Fort Myers, Florida
The exterior of your commercial property is essentially the face of your business, and the first impression anyone makes as they approach your entryway. At Clearly Amazing, we know that you want it to reflect the quality brand you've worked so hard and invested so much to build – and present an inviting appearance.
We offer a full complement of exterior cleaning services to help ensure that your business's exterior is brilliantly clean, sanitized and customer-ready. Whatever your business, from hotels, banks and restaurants to retailers and corporations, with Clearly Amazing, you can always count on …
Professional, knowledgeable, accountable crew leaders
Uniformed, courteous, highly skilled and experienced technicians
Professional-grade equipment, processes and products
Fleet of fully equipped service vehicles
Reliable scheduling and on-time job completion
You are faced with an endless array of people and situations requiring your time and attention on a daily, if not hourly, basis. It's critical that you have the right service providers in place that you can rely on for consistent, superior-quality work – so that your focus can then be on running your business. At Clearly Amazing, we've been that trusted resource for our commercial customers since 2013.
Our fully insured and highly skilled professionals stand ready in Fort Myers, Florida to serve your exterior cleaning needs. Contact us today for a free estimate.
Clearly Amazing is the service provider for …
Aramark
General Motors
Hilton Hotels
International Paper
Lilly Pulitzer
Panera Bread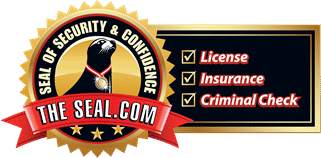 Considered the gold standard in customer assurance, Clearly Amazing has earned the Seal of Security & Confidence from respected third-party vetting company The Seal for its stringent business and hiring practices.